I'm Stuart, owner of The Woolpatch, a shop that sells yarn, farbic and haberdashery items.
I was a teacher and subject leader at a secondary school in Suffolk for 16 years and decided that was enough and wanted a career change. I've always loved retail and wanted to have my own shop for some time. Well...now I have one. A wonderful little yarn and fabric shop in the same county that I taught in - Suffolk.

I taught in the creative arts so have always had a creative passion for drawing, making and creating and am incredibly excited to be able to continue to be creative in this new career where I'll be pretty much learning all the skills right from the start especially with regard to the business side of things!
The shop is situated in the middle of Long Melford, an historic wool town in Suffolk. We're little, but hopefully in the coming years will grow and grow.

We do classes and workshops during the day . Examples are; general knit and knatter classes where you turn up and chat, knit and get spoiled by me with tea and coffee, skills workshops learning how to crochet for example and craft workshops where we just make wonderful things! All classes are run by fabulous local experts or by myself (not so expert but still fabulous!!). The wonderful thing about my position is I'm a learner in so many of these skills so you will never have to feel intimidated or uncomfortable as I'll be learning with you. However if you want to learn to Crochet then I can teach you that! But currently, many of the 'Woolpatchers' are developing my knitting skills as they are limited to just basic knit and pearl stitches. So I can do a mean Moss Stitch hahaha.

The website is very new - so PLEASE bear with me as I update it with information. There is only me doing the shop and the website - so if you need more information on anything as the website looks a bit wrong - then ring or email. I'll be making many mistakes I'm sure - which is great as that's what learning is all about and I'm not at all worried about that.

What I am not worried about however, is meeting you all - learning together and maximising our well being by being CREATIVE. So, follow me and the shops progress over the coming years. Come along and support me and everyone in the shop, or just by buying online rather than going to the big Internet Sites. Let's keep pushing this wonderful wave of popularity that Crafting is going through and enjoy the coming years of being creative together.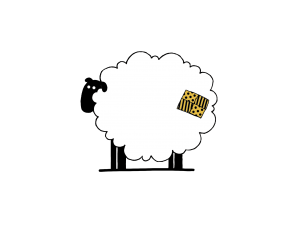 I'm very much looking forward to the next 16 years of my new career

Stuart
stuart@thewoolpatch.com

Oh and Baabara, our shop sheep. the logo I designed for the shop. You'll see her everywhere.